Done with your assignments, here are extension projects for you to begin...
Option 1

This you will create a website using Google Sites.

DirectionsHome Page

About you (First name only)
Add images and text to describe you

New Page

Create a new page for EACH novel we read. Each page should be...

Written in first person
3 journal entries
Use vocabulary words
Add images

Option 2

Create an ABC book on Google Slides.

Directions

Option 3

Read your library book or choose from our class library.

Option 4

class code:
Powered by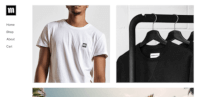 Create your own unique website with customizable templates.